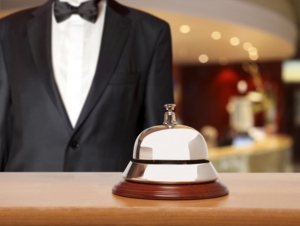 A trip to the Gulf coast resulted in a 15 year old hotel guest being sexually abused by a hotel bellman.
The abuse occurred when the 15 year old male was approached by a bellman employed by the Flagship Hotel on Galveston Island, Texas. The Hotel represents itself as catering to vacationing families.
While checking into the Hotel, the bellman sent non verbal signals to the teenager by mouthing words and nodding his head. The youngster ignored the bellman but later, in the afternoon, the bellman approached him while he was wandering about the hotel premises. At the time, the young man was smoking a cigarette and the bellman invited him to finish his smoke in the Hotel's banquet room where he would be more comfortable. The bellman led the teenager to the banquet room and once inside, turned off the lights and locked the door. This action was disconcerting to the young man so he sat down at a table near the entrance to the banquet room. As soon as he sat down the bellman sat down at the same table and sexually assaulted him.
The bellman was hired by the Flagship Hotel at the beginning of the summer and had been employed for almost 3 months at the time the assault took place. It appears that the bellman had been recommended for employment by another Hotel employee. Perhaps, based on the recommendation or Hotel policy, a background check on the bellman was not conducted.
Had the Hotel done a criminal records check, they would have discovered that the bellman had a lengthy criminal record. His arrests and convictions included possession of controlled substances, assault causing bodily injury, evading arrest, auto theft and criminal trespass. His record also revealed 2 instances of indecency with a child.
The teenager's family filed a lawsuit against the Hotel alleging negligent hiring, retention and supervision. The Hotel moved for summary judgment on the grounds that they had no duty to perform background checks on employees. The trial court agreed, granted summary judgment and dismissed the case.
The family appealed to the Houston based 14th Texas Court of Appeals. In a lengthy opinion, which included citing a Texas Supreme Court case, the Court of Appeals found that the Trial Court had erred and went on to reinstate the families cause of action against the Hotel and remanded the case for trial.
It is ironic and incomprehensible that a Hotel that markets itself as a "family vacation Hotel" feels no obligation to protect it's young guests by conducting employee background checks to make sure they have no propensity for violence or pedophilia. Based on the Appellate Courts decision, Hotels were put on notice to perform comprehensive background investigations on their employees, especially those who come in contact with the guests.