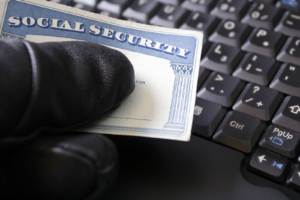 A routine traffic stop and an eight-month investigation unraveled a large-scale identity theft ring, which resulted in substantial prison sentences for nine individuals.
When police stopped a vehicle being occupied by Dominick Hurley they discovered telephone slips with names, credit-card numbers and pin numbers. They also found personal information in the form of credit applications belonging to customers of Henry Brown Buick-Pontiac-GMC, the dealership where Hurley worked as Sales Manager.
One customer of the dealership said she had her identity stolen shortly after purchasing a vehicle. She discovered the theft by learning that a Best Buy account had been opened in her name through a credit bureau alert service. In addition to Best Buy she learned that a T-Mobile account along with credit card accounts had been opened as well.
The investigation revealed that Hurley was opening Best Buy and Lowest credit card accounts based on information he obtained from the records of 121 customers supplied to the dealership. The total balance of these accounts exceeded $60,000.
Hurley was fired from the dealership, pled guilty to fraud and was sentenced to 10 years in the penitentiary.
According to police records, Hurley had 17 prior felony convictions and served more than 3 years in state prison.
Here is another example of employers hiring their problems. Why didn't the dealership conduct a background investigation, especially on a member of management that has access to sensitive customer information? Can you imagine the suspicion that exists in the minds of prospective customers now, when they consider doing business with the dealership?
The moral to this story: Conduct a comprehensive background investigation before you hire an employee. Thieves, embezzlers, sex offenders and substance abusers are in the labor force looking to get hired. It's up to you to weed them out before they harm your business.